The Presbyterian Church is overseen by a group of Elders.  One Elder is set apart as the Teaching Elder — this Elder is the Minister of the Church. Our minister is Andrew Woodyatt.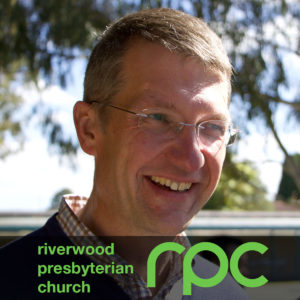 Andrew is married to Amy. They have one son, Timothy, who is rapidly growing to be as tall as his dad. Andrew worked for several years as a software engineer before training to become a pastor. In his spare time, Andrew enjoys reading, playing saxophone, and spending time with his family. You can contact Andrew at andrew@riverwoodpressie.org.au.
At RPC we have five Elders.  These Elders and their oversight responsibilities are:
Stuart Hyde — Bible Study Leader and Clerk of the Elders.
Eric Lay — Bible Study Leader and Elder with an Overseeing role in Worship and Youth.
Mark Mahoney — Bible Study Leader and Elder for Kids Church.
David Morrison — Bible Study Leader and Elder for Evangelism.
Andrew Woodyatt — Teaching Elder / Minister
All Elders meet fortnightly to discuss prayer and pastoral business.